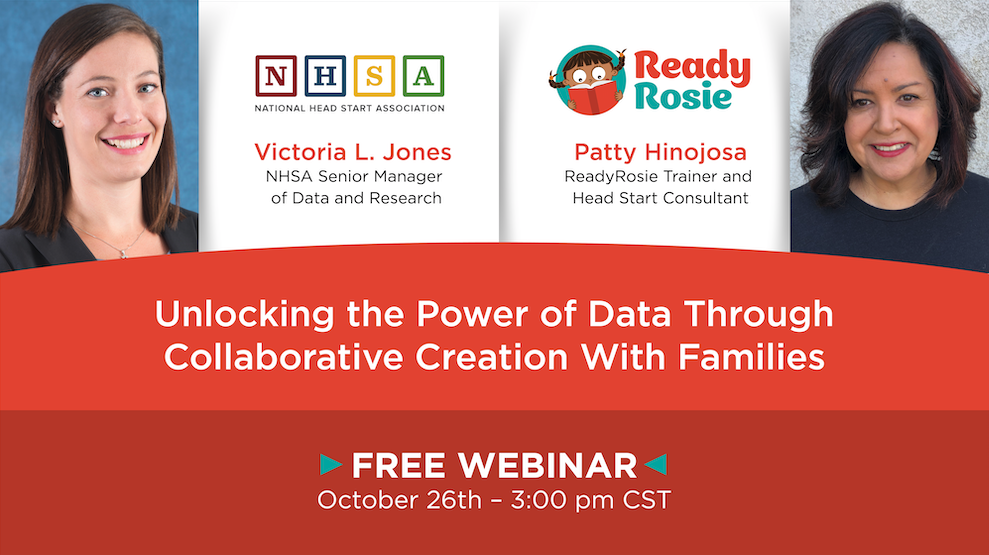 Many schools and pre-schools use and collect data. Are you stressed with collecting too much data? When data is collected and used effectively it can give you the full picture needed to tell your unique data story. Would you like to co-create data with families that supports family measurements of success? We at ReadyRosie believe that families can, and should, be active partners in program data stories.
Over the past few months we've enhanced our data views and used the Head Start Parent, Family, and Community Engagement (PFCE) Framework as a central tool for making the two-generational approach more visible in our data in order to increase learning opportunities and nurture strategic partnerships with families. We're looking forward to bringing more perspectives into the conversation around family data in our upcoming webinar with panelists:
Victoria L. Jones, NHSA Senior Manager of Data and Research
Patty Hinojosa, ReadyRosie Trainer and Head Start Consultant
During the webinar be prepared to:
Learn from NHSA's Senior Manager of Data and Research about the evolution of data in the Head Start Program and the importance of co-creating data with staff and families to support children and family outcomes.
Hear about our exciting ReadyRosie data Share Platform and real-time actionable data, co-created with families, to effectively support your data-informed decision making and highlight family and program progress.
Explore how you can use our ReadyRosie data Share Platform to educate your local community partners.
Update 10/29/2018
The recording of the webinar "Unlocking the power of Data through Collaborative Creation with Families" is available on our YouTube channel here: https://readyrosie.live/unlocking-the-power-of-data