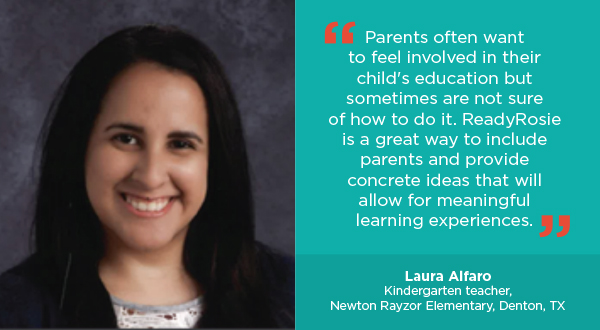 Laura Alfaro teaches kindergarten at Newton Rayzor Elementary School in Denton, TX. She has been teaching for seven years (in three different grade levels: second grade, fourth grade, and kindergarten). We asked her a few questions about her first year using ReadyRosie with her class.
Tell a little bit about your daily routine at school. How does ReadyRosie fit into it?
Our daily routine is a busy one as kindergartners need to move and interact in different ways. We have a very busy curriculum with district and school requirements that need a lot of the time in our daily routines, so I try to incorporate play into instruction and learning activities as much as possible. This is where ReadyRosie has come into place. Some of the activities that the students have been "assigned" to do at home with their parents are also activities we do at school during our daily routines; included as literacy stations or part of our reading and writing blocks.
What is your favorite Modeled Moment Video and why?
Stomp the Letter (Spanish version) was the first video I used with my class and it is an activity that we have incorporated at school daily.
How does ReadyRosie help you with your goal of partnering with families?
It allows for the learning to be continued at home in a way that is cohesive with what we are doing at school. One of the practices that has been more successful for my class is sharing the videos and activities with the kids at school before they go home. Once they go home, the students are the ones in "charge" of encouraging their parents to watch the video with them or even explaining and modeling the activity at home.
This is your first year using ReadyRosie, is there anything that surprised you when you started out?
I would say the biggest surprise for me is to see ReadyRosie as a resource for teachers in the sense that it provides so many great learning opportunities that can easily be integrated into daily classroom instruction.
Laura participated as a panelist in our webinar "ReadyTeacher Chat: Teachers Share What Works". A recording of that webinar is available on our YouTube channel here: ReadyTeacher Chat: Teachers Share What Works