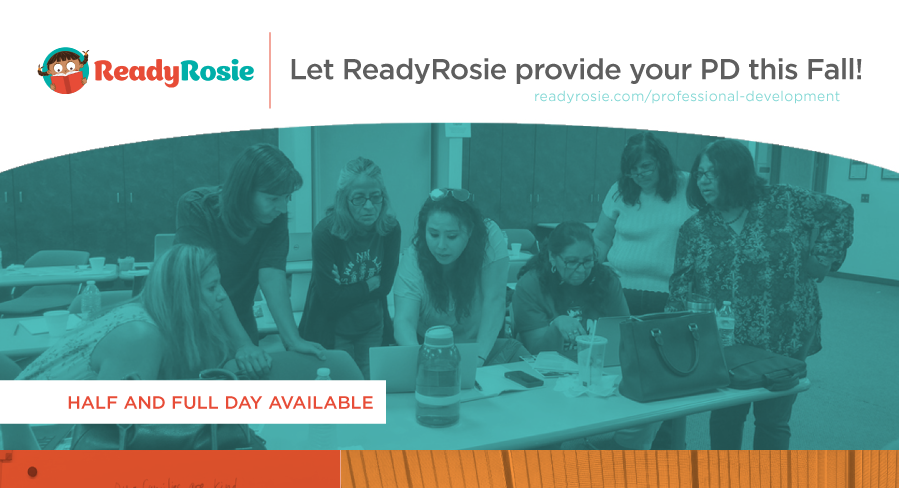 At ReadyRosie, we are all about readiness. We believe and know from research that a child's background experiences and home relationships contribute to their readiness to learn in the classroom. We have spent the last seven years creating tools for families and caregivers that support their critical role in the development of their child and their child's readiness to be successful in the classroom setting.
In fact, when ReadyRosie was launched in 2012, that is all we focused on—equipping the family and caregiver with research-based tools. However, something magical happened in 2016 when we began testing educator tools to support families. Basically, we shifted two key aspects of the ReadyRosie experience:
WHO was delivering the content to families
WHO was customizing the content for families
We created the Share platform where instead of our team at ReadyRosie selecting a standard sequence of content, a classroom teacher, home visitor, or family service provider could create custom playlists of modeled moment activities that tied to classroom instruction or met specific needs of children and families they know and love.
By making those two seemingly small changes, our data confirmed that the educator/caregiver relationship is powerful! In the pursuit of readiness and whole child development, we knew the caregiver/child relationship was critical and by opening doors to educators so they could use the platform in a new way that allowed them to act, communicate, and reach out with greater intention, we were able to see more clearly the incredible impact of their role as well.
Since the release of the ReadyRosie Share platform, our team has created professional development for schools and programs focused on encouraging, inspiring, and equipping educators to embrace the opportunity to partner with families in a meaningful way.
This month we're excited to announce a new professional development opportunity for both administrators and classroom teachers, "Lead the Way in Parent and Family Engagement," which ties leadership skills and strategies to effective partnerships with families.
Please learn more about our training offerings here and contact us at info@readyrosie.com to create a plan to equip and inspire the educators at your school or program around powerful family partnerships.