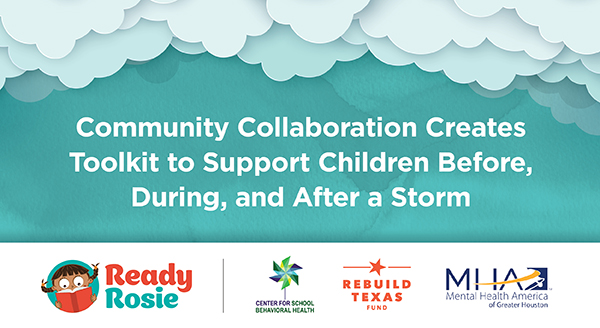 When big storms such as hurricanes are approaching, we often think about gathering supplies and safeguarding our home. But what can we do to help our young children prepare for a storm and its aftermath? What are typical emotional reactions and when do we need to seek additional help?
In the aftermath of Hurricane Harvey, Chris Hensman asked similar questions. As a father to a young child in the Houston Independent School District, he had recently received access to ReadyRosie and was curious what trauma-related content might be available to support his own family and others in his community. Chris reached out to the ReadyRosie content team in his role as Program Officer for the RebuildTX Fund. Over the course of the next few months, Chris connected ReadyRosie with The Center for School Behavioral Health at Mental Health America of Greater Houston. MHA was eager to bring their extensive knowledge of childhood trauma and behavioral health to their local community as well as to other communities who have been or could be impacted by natural disasters.
The collaboration, funded by RebuildTX, provides a toolkit that includes five Modeled Moments and five Research & Answers videos to support families before, during, immediately after, two weeks after, and six weeks after a hurricane or other natural disaster. Accompanying each video is a collection of supplemental resources and extensions for families and/or educators who want to learn more. Additionally, the content team from both ReadyRosie and MHA are working together to provide educational and family support programs with a family workshop resource titled "Calming the Storm" as well as professional development support for educators and leaders who will be providing trauma-informed care.
Thanks to the RebuildTX Fund, the videos and other resources for educators are available for free at https://readyrosie.com/storm-prep/. Additionally, all resources from this collaboration are available to our ReadyRosie partners to share with families via the Share platform.
Please read more about the collaboration and resource in the press release from MHA here .