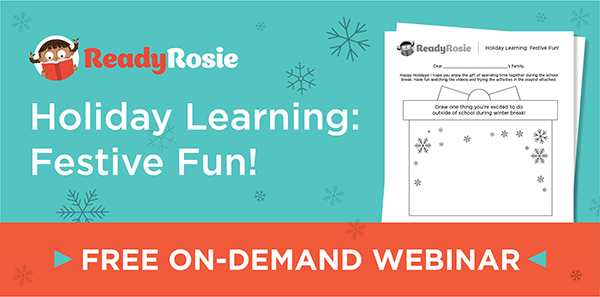 The holidays can be an exciting time and yet they can also be stressful. There are so many mixed emotions. There can be stress related to changing routines, travel, or the dynamics of extended family visits. The holidays are often full of a whirlwind of all kinds of heightened emotions.
As educators, we feel the excitement and stress too! While we may feel the need to focus our efforts on planning parties, programs, and last minute instruction, we also know that what children really want is quality time with people they love.
The time your students spend learning, talking, and playing with their families creates enduring memories. As educators, we know that these bonding moments build confidence, resilience, a depth of background knowledge, and higher-level thinking that will extend into the academic areas you are working so hard to teach!
This year we've done a big update to our holiday resources to make sharing even easier by creating pre-made, grade specific playlists. It's as simple as scheduling the playlist for your class and then printing out a PDF if you'd like to send home a physical reminder (we highly recommend doing this).
To make it even simpler, we've put together an on-demand 30 minute webinar. In the webinar we'll:
Go over the steps for sending out the grade specific Holiday Learning Playlist
Show you how you can customize a pre-made playlist
Show you how you can create a playlist based on a gift idea (i.e. a deck of cards or set of dice) By the time you complete the webinar you can have your holiday playlist scheduled!
At the end of the webinar you'll have the opportunity to download a certificate of completion AND if you complete the webinar before December 1st we'll enter you in a raffle to win a classroom set of materials to support family learning!